Monday, February 13, 2012 at 9:28PM
Pre-weekend, I thought I was going to have LOTS of weekend adventures to share on here.....but like all well-made plans.....they change!
Ryder has not been himself for a few days now. We originally thought teething, but a quick trip to the Doctor on Saturday morning revealed that it's more likely a head cold virus, mixed with early teething. Meaning, he's not a happy chappy at all! High temps, the cranks & a blocked nose which is effecting feeds, sleep & the normally happy nature of our boy.
So, the direction of the weekend changed slightly. I stayed home with the unhappy, overtired little man whilst Chris & Ella headed off to some lovely friend's engagement party on Saturday afternoon, and then we enjoyed a quiet night in with homemade pizzas.
I headed out with the 2 kids on Sunday morning, to the markets with some friends. That was nice! But Mr Ryder let me know that he had had enough & it was time to head back home, out of the stinkin' hot weather & into the cool air-con :)
So, we savoured extra cuddles from a very sooky little man & enjoyed the simple things......like chubby thighs & snoring babies :)
I've said it before & I'll say it again....He is so delicious.
And, to ice the cake.....little Miss Ella has developed a runny nose & a cough today.....so the fun will continue :) Thankfully there is always lots of simple things to enjoy ;o)
Linking up with THE SIMPLE THINGS today: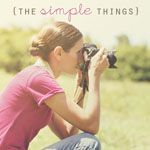 Oh, yeah, by the way.....my regular readers may have noticed that my blog layout is different & my blog banner has vanished & been replaced with my business/website banner.......but bear with me.....I'm in the process of changing websites over to a different host.......I'm looking forward to getting my blog back on track & beautifying it :))))
P.S. Don't forget to email me your MESSAGE TO TEENAGE ME submissions :)